Category:
Automatic Rising Bollard
Automatic Rising Bollard
Our Anti-ram impact test bollard barrier systems has a lot of type . For example ; Electromechanical Automatic Rising Bollards , Hydraulic rising bollard barrier , Pneumatic bollards , Manual bollard , Fixed bollard barriers And Different model stronger body M50 M30 K12 K4 K 8 PAS 68 Crash test rated Anti-terrorism level manufacturer
---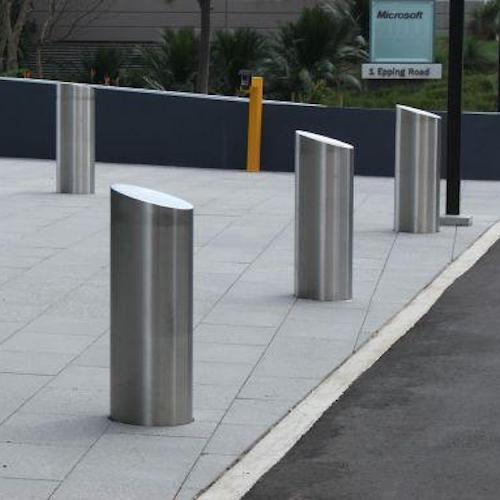 Madoors automatic anti-ram rising bollards ( electromechanic , hydraulic, fixed, pneumatic and manual ) are designed for high security vehicle entrances, army, industrial, governmental and commercial buildings or streets which are closed to vehicle traffic between certain hours of the day.The MAdoors Automatic Bollard is a hydraulically operated rising bollard that offers superior aesthetics and system functionality.The Madoors Automatic Bollard is completely reliant on an operator. This type of rising bollard can be utilised on either large, manned car parks or in residential or commercial applications operated by an individual hand-held key fob.Automatic Bollard is a stainless steel automatic rising bollard designed specifically for driveway access control.The madoors rising bollard is the premier automatic bollard for driveway access control, ideal for use on residential or small commercial applications.
Automatic Anti-Ram M50 M30 Impact Test Report Rising Bollard Exports to the Middle East and Africa , Automatic Crash Test Rated rising bollard masts (safety masts) offer excellent safety and traffic-calming solutions to areas with higher traffic flows or at specific risk areas. Our systems are perfectly programmed to work with your current system, such as automatic barrier or sliding doors, or can be installed as an independent security system. Automatic rising bollard masts are a highly robust product to move away from vehicle attacks through a versatile programming system, such as multiplication, and can be a perfect solution for closing certain roads or roads at certain times, such as high streets during shopping hours.
Our first-class automatic masts provide fluid flow, while fully upgrading or lowering in approximately 3-8 seconds. Emergecy optionally 1 seconds upgranding . Clear LED indicators provide safe activation for all types of use. Thanks to an automatic lowering option during power outages, applied safety or traffic control can be easily overridden in emergency situations.
Manual Retractable Bollard receivers must be dug into the substrate, since the bollard body slides completely into the ground receiver. To keep bollards functioning over a long time, planning and proper installation are important.
---
---
---
---
---
---
---
---
---
---
Get Quote