Product:
Hydraulic Rising Bollard
What is Hydraulic Rising Bollard?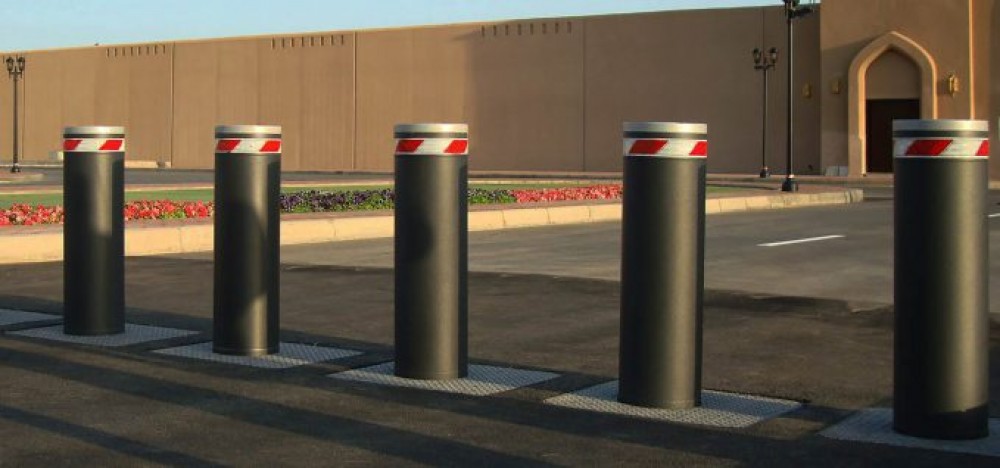 Electro-hydraulically power operated, our Blocking Bollards come in single or multiple units with a common drive unit. The standard blocking height above surface level ranges between 500 mm to 850 mm. Aesthetically designed in different shapes and colors, this range of bollards is ideal for pedestrian zones in the city, fuel pumps as well as for security purposes in front of important buildings
Madoors systems retractable high security automatic bollard is an automatic product that provides exceptional flexibility in appearance and functionality. This automatic bollard is designed for access control for building entrances such as hotels, event centers, golf clubs, exhibition centers and town centers.
Madoors hydraulic rising bollards are designed for high security vehicle entrances, army, industrial, governmental and commercial buildings or streets which are closed to vehicle traffic between certain hours of the day. Both "High Security" and "Commercial" type Madoors Hydraulic Rising Bollards have the same strength, whereas "Commercial" bollards are shorter than the "High Security" ones. The thickness of the bollard, the underground construction, the self-lubricating sealing and guide ring made of special plastic types, hydraulic piston, flange thicknesses and diameters, hydraulic connections, installation and drainage procedures etc. are all the same. These units are designed to K12 standards. Finite element analysis can be supplied upon request. Typical raise/lower time is 3 seconds but it is possible to design the system to raise/lower in 1.5 seconds.
They can allow access to certain zones around a compound which sees high vehicle flow. The current range of the Madoors range is available with a diameter of 275mm and a height of 500mm or 850mm. This can be altered should you require a different size and shape. Having them all operated from a central control panel will allow you to manage the vehicles coming on to a premise.
Hydraulic Automatic Rising Bollard Barrier is designed especially for high security vehicle entrances and for a location that has to be closed for motorized traffic at specific times. They can be installed as a single unit as well as in groups. Bollards are driven hydraulically and the hydraulic drive unit is placed in an installation cabinet close to the bollards. In case of power, failure bollards can be lowered manually. With the help of plc/microprocessor controlled electronics, raise/lower function can be achieved by every kind of card readers, biometric readers like fingerprint or hand shape, radio control, on/off switch or key switch etc. Besides, safety accessories like loop detectors, photocells, flashing lights or red/green lights can be integrated into the control electronics very easily.
---
Technical Specifications
Teknik Özellikler
Ebatlar
210x800mm
Strok
600mm
Çalışma Voltajı
380VAC
Ters Gerilim Koruma Özelliği
Var
Açılma/Kapanma Dayanıklılığı
1.000.000 kez
Bekleme Akımı
2A @380VAC
Çalışma Akımı
8A @380VAC
Çalışma Sıcaklığı
-20/+50
Buton Tipi
3'lü Buton (Aç/Kapat/Dur)
İkaz Elemanları
Trafik Lambası, Flaşör, Siren
Güvenlik Ürünleri
Fotosel, Lab Dedektör, RFID Sistem, Parmak izi/Şifre cihazı
Program Özellikleri
Program Güvenliği
100 Yıl
Hata Önleme
Power-On-Reset
Hata Takip Özelliği
Var
Açık Durdurma Özelliği
Var
Otomatik Kapanma Özelliği
Var
Düşük Güç Uyarı Özelliği
Var
Aşırı Akım Koruma
Var
Motor Koruma
Gerçek Zaman Saati ile Motor
Açılma/Kapanma Süresi
3-15 Saniye
Şifreli Korumalı Servis Menü
Var
Hidrolik Sistem Özelliği
Hidrolik Basınç Saati
Var
Hidrolik Sıcaklık Saati
Var
Hidrolik Seviye Göstergesi
Var
Basınç Dayanıklılığı
160 bar
Çalışma Basıncı
20-50 bar
Valf Kilidi
Var
---
Hydraulic Rising Bollard Photos
---
Hydraulic Rising Bollard Datasheet
---
Catalog
---
Video
Get Quote