RISING MOBILE ELECTRIC BOLLARD
Product:
Rising Mobile Electric Bollard
What is Rising Mobile Electric Bollard?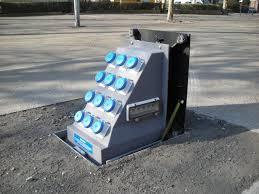 Wherever there may be a temporary energy requirement, be it for electricity, water or other services, energy distribution bollards are the ideal solution, guaranteeing a totally safe energy supply. This type of bollard means the end for dangerous or make-shift connections or cables, and of the risks associated with cables strewn over the ground.
Madoors Rising Mobile Electric Bollard for power supply has been made to ease the process of making multiple voltage connections. The bollard distributes the electrical energy for your need. It is also called as energy distribution bollard.
The high quality level of the the bollard provides oxidizing and bad contacts protection to the electrical components. The users are protected from electric shock. The bollard provides an option of connecting one or more sockets, while ensuring door closure, to prevent unauthorized connections. The unit is made from cast steel and aluminium and provides unparalleled impact and vandal resistance.
The system provides its users and the general public with a guarantee of total safety. It can be used in a large number of settings: markets, sales, funfairs, exhibitions, concert halls, camp sites, multi-use areas and rooms, sports complexes, recreational areas, technical service areas, laboratories, car parks and hospitality areas. The electric bollard bollard combines functionality with design.
That's not all, because the fixed supply bollard MADOORS can be installed:
-In public areas for squares, market areas, historic centers, hotels, public parks, sports centers, malls, caravan parks and camps, ports, small harbors and marinas, airports and hangars, railway stations and undergrounds and stadiums.
-In private areas such as villas, swimming pools, gardens, apartment buildings, workshops and industrial facilities,the fixed service supply posts and bollards are the best solution for functionality and design.
The new line of distribution posts and columns, like the entire range of New Madoors products, can be customized with different colours and finishes with the possibility to add outdoors lighting systems and pre-paied systems.
New MAdoors offers a tailor-made design service, in order to meet the client needs.
Electrical distribution bollard , Rising Out of the Ground Power Bollards, Rising Retractable Power Posts & Power Supplies, Rising Power Poles, Rising Power Posts, Rising Energy and Water Bollards. Populated with electrical outlets, populated with water outlets or populated with communications outlets.
---
Rising Mobile Electric Bollard Photos
---
Rising Mobile Electric Bollard Datasheet
---
Catalog
---
Video
Get Quote