Sliding Gate
CANTILEVER OR ON RAIL SLIDING GATE , MANUAL OR MOTORIZED . Need Safe, Effective Access Control? Here's Why A Sliding Gate Is A Great Choice. The control of your company is key to manage a flow of vehicles and maintain the safety of your services. MAdoors offers different models and solutions of sliding gates to control your entrance. Our sliding gates are presented on rail or cantilever, manual, motorizable or motorized, but always conform to regulation and CE norms, in any situation. Consult our range to close your perimeter with professional gates built to last
---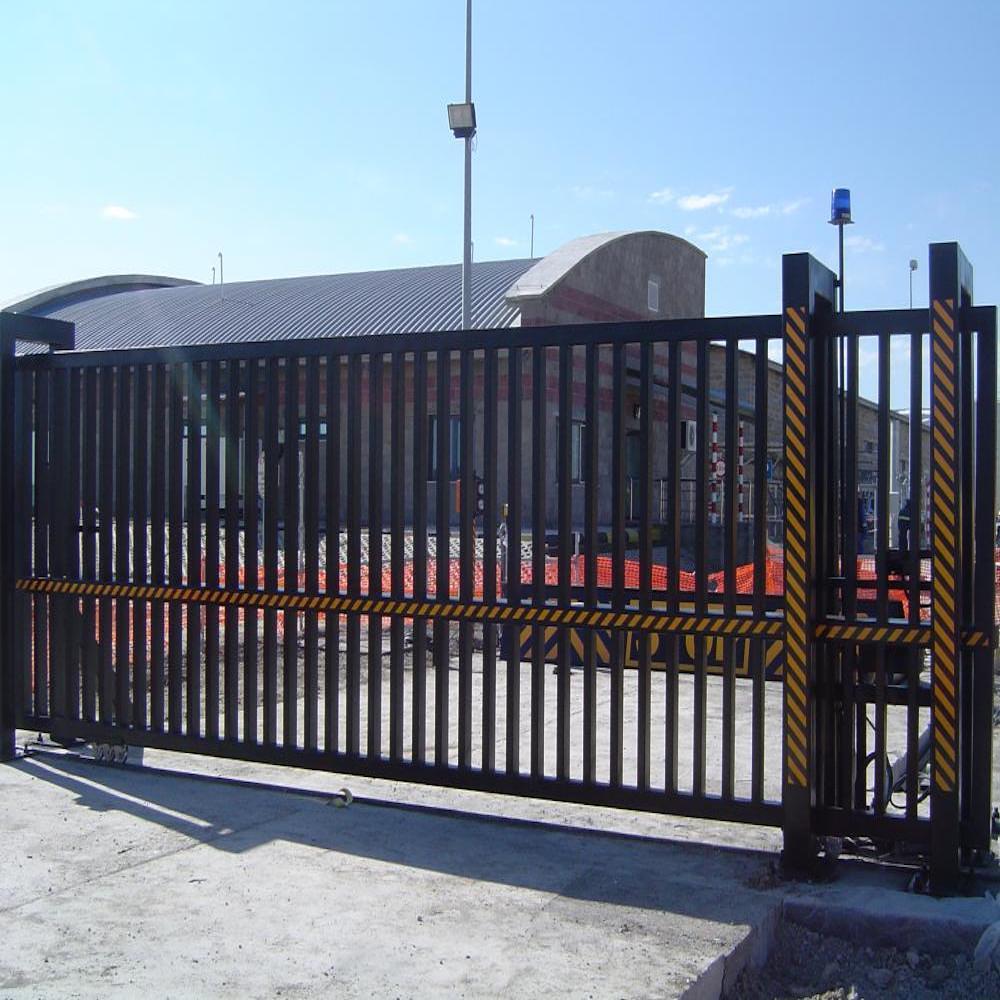 Madoors automated sliding gates can be used as vehicle access control system in commercial complexes, business premises, factories and similar places.
Control access to your premises with a motorized sliding gate . A automatic sliding gate can combine a high level of security with ease of access where there's limited space. This makes it an appropriate choice for premises that open onto busy streets. Where there's heavy footfall or a lot of traffic, they are the best option since they open easily without drivers or pedestrians having to walk far to open and close them.
Flexible products to meet your needs . Madoors gate systems offer you the greatest flexibility of choice. If you need driveway gates for your house or business, there are both manual and electric versions. All sliding gates can also be combined with swing gate options for pedestrians if required. Select from a wide range of metal and timber infill options, too, so you can achieve the right look and level of viewing for your site, either fully visible or completely private.
A range of sliding gates to meet every situation . When a high traffic larger area site needs a great value for money option, Madoors cantilever sliding gates are a great choice. In fact, whatever the size of entry access control you require, you'll find the right style and materials in Madoors's extensive range of products. Whether you need lightweight and durable aluminium gates, or prefer wire with wooden slats or composite vertical bars, Madoors gives you the flexibility to create your look.
Safe and efficient access . All Madoors's automatic sliding gates are designed and installed with safety in mind. Gate automation includes fully automatic versions using photocells, pressure strips and remote controls, with integral safety systems so you know that anyone who uses your electric sliding gate is safe. In summary, when your site or driveway requires both safe and secure access, you can find it with madoors.
Traditional and modern working in harmony . Some locations may warrant advanced security but need a traditional look. Some historic or sensitive locations may need the look and styling of a wooden gate, for instance. Others may need colour matching or coordinating to other aspects of the site. With so many infill and panel styles available, you can have both effective access control and aesthetic appeal.
---
---
---
---
---
---
---
---
---
---
---
---
---
---
---
---
---
---
---
---
Get Quote