ACCORDION AUTOMATIC SLIDING GATE
Product:
Accordion Automatic Sliding Gate
What is Accordion Automatic Sliding Gate?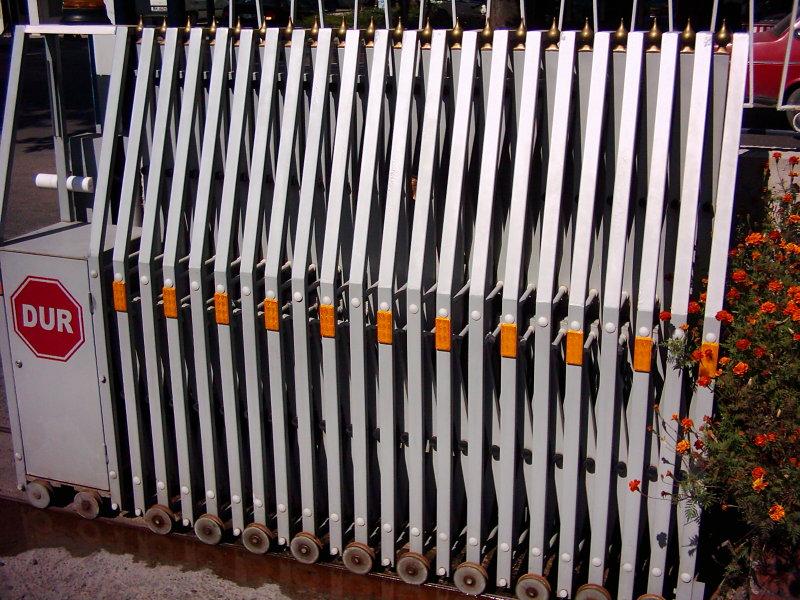 Electric telescopic door has stable performance,Compact structure.Inlay type heat preserve device. Lengthen the door opener working life.
The standard high: 3-20 meters.
Material: High-strength aluminum alloy profile , Normally Stell or Stainless steel
Surface: Coating using electrophoresis color, long life, no fading.
Walking control system: Intelligent robot control system; Monorail walking control system; Double-track control walking system.
Outdoor Automatic Electric Motorized Accordion Telescopic Sliding Gate is made of fine aluminum alloy, multi-wheels running stability and durability, power motor and nose, display screen, etc. And the gate is anti-collision, anti-corrosion, anti-clibm, anti-lifting, anti- moth, UV-resistant, waterproof, moisture proof, quakeproof, theftproof and so no. Easy for installation and maintainance.
This Accordion Foldind Sliding Telescopic door matching suite is the upgrade product was produced by our company. This product has stable performance, unique design, nice appearance, simple assembling, and bring great convenience for customer use.
The aluminum or stell accordion telescopic sliding door gate . The telescopic sliding gate is widely used in factory, school, government, hotel, hospital, airport, railway station The
Industrial aluminum 6063-T5 material: high hardness and tensile strength
Engine overheat protection: auto power off if the engine is upto 120 ° C
Wheels: made by casting aluminum, 2000000 times tested without abrasion
Anti-wind hooks: prevent the gate overturn by strong wind
Anti-bumping sensor: any obstacle during closing process
Anti-climb-over alarm: alarming once anybody climbing over gate
Caution light: it will twinkle
Speed ​​clutch
Wireless remote control: with maximum 50m effective distance
Gate sliding speed: around 25 m. / min .
Standard equipped 8 bits static screen or optional 500bits rolling screen
Gate Length, Height, Color can be customized
MAdoors installation, easy operation and maintenance
---
Accordion Automatic Sliding Gate Photos
---
Accordion Automatic Sliding Gate Datasheet
---
Catalog
---
Video
Get Quote