MOBILE BULLETPROOF GUARD BOOTH - PORTABLE BULLET RESISTANT GUARD SHACK
Product:
Mobile Bulletproof Guard Booth - Portable Bullet Resistant Guard Shack
What is Mobile Bulletproof Guard Booth - Portable Bullet Resistant Guard Shack?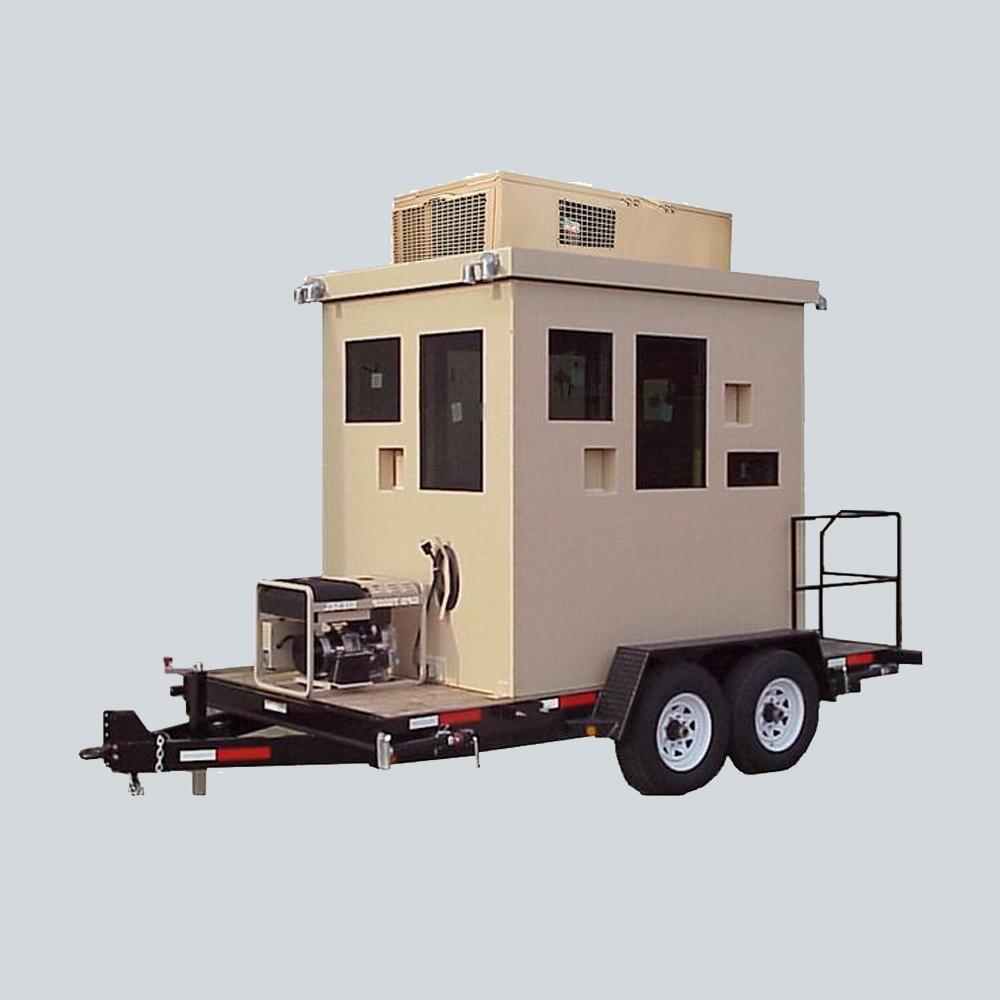 If your facility has any threat level, we recommend not hesitating to invest in a ballistic structure to protect your facility and above all else, your employees. The Madoors Ballistic Rated Mobile Trailer Guard Houses , Guard shack are prefabricated and made from Carbon steel or ballistic stainless steel construction. These bullet resistant guard booths , guard houses can be constructed to meet NIJ and/or UL bulletproof levels.
The Madoors's all welded steel construction and use of durable, low maintenance materials ensure the mobile trailer type ballistic bullet resistant guard booth's greatest longevity. Panel Built Booths are tough, durable and can be built to comply with all ADA requirements. Special security features are offered to customize the security guard booth to your location requirements and to keep your security officers comfortable as well as secure. Our enhanced ballistic construction options for high risk environments.
Mobile Trailer Bulletproof guard booth features ;
All levels of UL and NIJ ballistic protection
Fork/Crane Liftable Steel Base
Lightening Protection, PA, and Security Systems
Offered in a Variety of Sizes and can be Painted Your Custom Color
Insulated and Weather Proof with HVAC Systems
Available in Shed, Gable, or Hip Roof
Trailer Mounted Options
Ballistic Bullet Proof Guardian Booth , Guard Booth on a trailer
Portable Applications and the Right Features Change the Way We Live. While mobile bullet proof , bullet resistant guard shacks may not be considered life-changing, new features that regularly become available could really help improve your business and make things function more effectively.
Wondering how a mobile bullet resistant guard shack and booth can benefit you as opposed to a permanent structure?
Consider the Top 5 Places to Utilize a Portable mobile Guard Booth:
1. A large industrial facility. In extremely expansive and large facilities the security focus shifts on different buildings within the complex depending on where the work is taking place. It might be cost prohibitive to place a permanent guard booth at every building but with a mobile trailer booth you can simply hook it up to a pick-up truck or SUV and relocate it as needed.
2. A construction site. Quite often, the day-to-day operations of a construction site can have the workers operating in different areas. A mobile booth can be moved around the property to accommodate the work area, providing focused security for the section where tools and equipment are stored.
3. A large facility that has different entrances open at different times. Many factories use different production lines at various times of the day or week. While the morning shift may enter the property at the northeast entrance, the evening crew may begin their shift in the southwest quadrant. Why pay for multiple permanent guard booths that will only be used part of the time? A portable guard booth can be easily transported from one area to the next to provide maximum utilization.
4. A traveling show or event. Chances are, if you are in charge of a traveling show such as a circus or carnival, there will not be a guard booth at every stop on your tour. In fact, there may not be a permanent security feature at any of them. But the show must go on and so it will, in a safe, secure manner with a portable guard booth!.
5. In case of emergency, you can add security in a locale at which you don't normally have a guard stationed. Even if you weren't a Boy Scout, you can still take their motto, "be prepared" to heart! That is why many police departments purchase a portable trailer booth for their fleet. Should the unexpected occur and you need to establish a security presence in a place that is normally unstaffed, you can do so quickly and easily with a portable guard booth.
---
Mobile Bulletproof Guard Booth - Portable Bullet Resistant Guard Shack Photos
---
Get Quote