BULLET RESISTANT MOBILE SECURITY TOWER - BULLETPROOF PORTABLE SECURITY TOWER
Product:
Bullet Resistant Mobile Security Tower - Bulletproof Portable Security Tower
What is Bullet Resistant Mobile Security Tower - Bulletproof Portable Security Tower?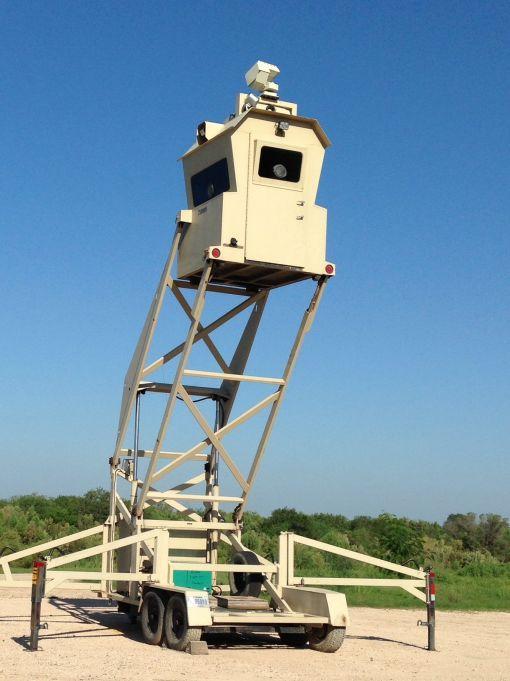 The mobility and functionality of the MAdoors Bulletproof Tower make it ideal for use at impermanent bases or as part of security operations around critical infrastructure facilities.
The Madoors Bullet resistant trailer mobile guard tower was developed with the intention of being deployed with our military forces and as such provides optional ballistic capabilities for those areas in which enemy activity is at its highest. Due to this inherent design, the MAdoors can meet the rigors of expeditionary missions not only for the military, but also for border patrol and high level security arenas."
The MAdoors Ballistic Tower can be loaded with a significant array of surveillance and monitoring equipment as well as high level communications capabilities. The high profile also acts as a significant deterrent to enemy forces.
Clearly, this platform, then, was developed by its manufacturer as a high-tech, mobile guard tower with gun ports.
Depending on the mission, the madoors security bulletproof tower may be customized with a range of madoors equipment, including:
Thermal cameras
Night vision cameras
Day cameras
Radars, and/or
Additional law enforcement equipment such as
Radios and Public-Address Systems
Standard features include flood lights, under cab safety camera, tinted windows and generator and fuel tank.
Every portable tower includes the basics for the comfort and safety of the officer inside through adjustable heat and air conditioning, tinted sliding glass windows and comfortable seating.
And no matter the application, only one person is required to set up and deploy a unit.
The MAdoors portable surveillance tower can easily be relocated and is rugged enough to handle even the most primitive off-road conditions.
Each of our hydraulic security tower models are adaptable for cameras, radios, public address systems and other equipment integration.
---
Bullet Resistant Mobile Security Tower - Bulletproof Portable Security Tower Photos
---
Catalog
---
Get Quote