TRAILER EXTENSIBLE MOBILE HOSPITAL
Product:
Trailer Extensible Mobile Hospital
What is Trailer Extensible Mobile Hospital ?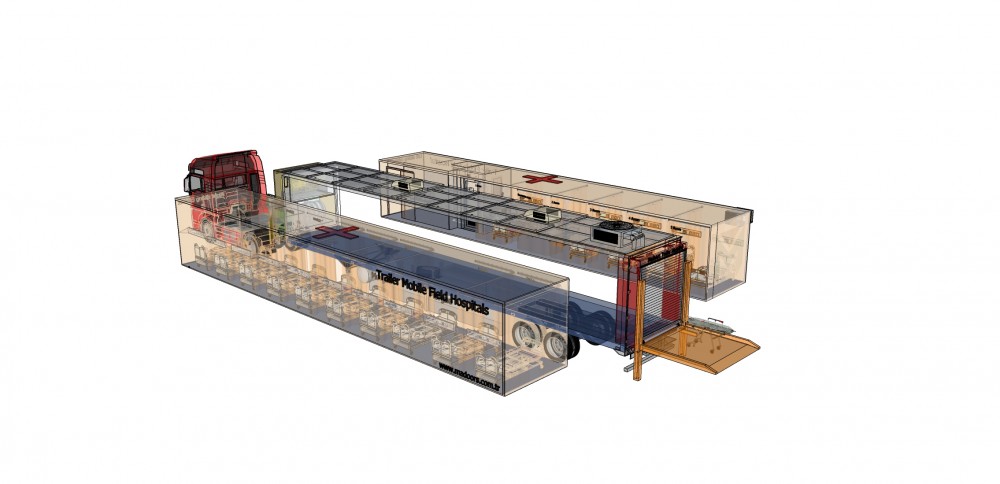 As MAdoors system, the systems we have developed to create mobile hospitals in a short time are 100% domestic manufacturing and have a 2-year warranty. Mobile hospital truck (trailer) trailers we produce for all countries and continents are produced in many different structures. Our systems that we designed to work in extreme hot and extreme cold climates. It includes all hospital equipment. It is a small hospital. It has been redesigned for new epidemics such as Covid-19 and Coronavirus. Intubated patient dormitory department and normal clinic are independent from each other.
Our products can be in the mobile clinical format to be installed on a single trailer as a trailer type or in a complex structure with different units consisting of multiple trailers. In the mobile field hospital complex, the operating room, x-ray service, inpatient services, gynecology service, otolaryngology service and children's units are the units that are primarily manufactured. Finally, our madoors system company engineers have developed our emergency units that are specially designed for COVID-19 and Coronavirus disease. It is ready for production and sale. Mobile hospital and clinical trailers can be mounted on a truck or towed trailer, as a trailer. These separate structures can be combined to form a complex hospital structure.
Our Madoors system company produces "Mobile Trailer Hospital" projects for many countries and international organizations, especially to the African and Arabian Peninsula. If our mobile hospital trailer systems are desired, hydraulically operated type expandable can be produced empty. If desired, it can be designed by placing it in all hospital medical equipments.
As Madoors system, we produce trailer type mobile mobile hospital applications. Please contact our company about free projects and consultancy for our Emergency Mobile intervention and first aid solutions. The length and width measurements of the vehicles, the length of the side opening rooms may vary depending on your request and usage. Our mobile portable trailer systems, which are our project based products, are produced according to the wishes of our customers. Air conditioning and electrical systems of mobile health trucks can be produced according to the country in which they are manufactured. In some countries, the electric frequency varies as 50 hz or 60 hz. Electrical equipment is manufactured accordingly.
MAdoors extensible trailer mobile hospital 2 years warranty
---
Trailer Extensible Mobile Hospital Photos
---
Video
Get Quote