SURFACE MOUNTED HYDRAULIC ROAD BLOCKER
Product:
Surface Mounted Hydraulic Road Blocker
What is Surface Mounted Hydraulic Road Blocker?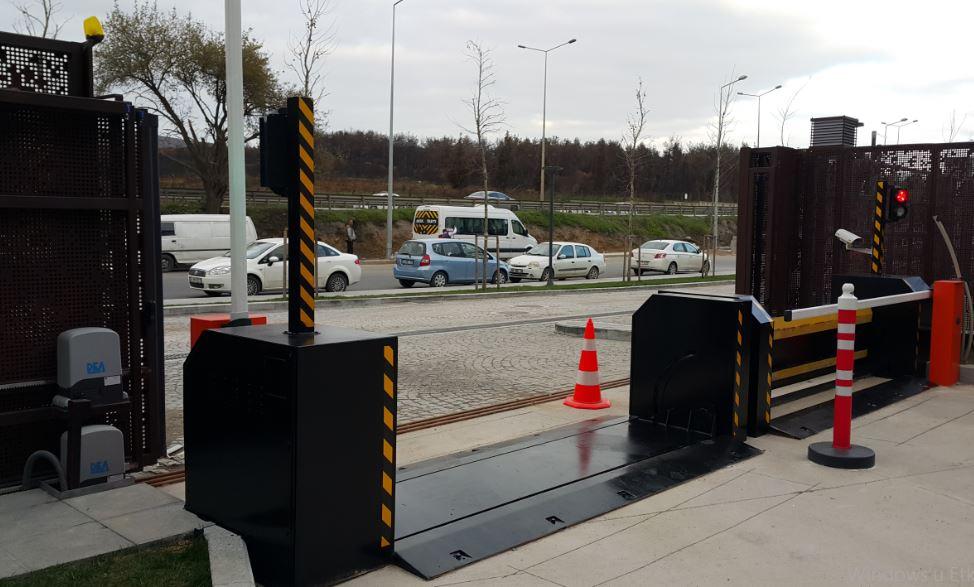 Surface Mounted Type Road Blockers are designed especially for entrance points which have a threat of vehicle attack or for the ones that have high security requirements. If there is a threat of vehicle attack in addition to the control of vehicle access in high security applications, hydraulic road blockers are the unique solution and the most secure systems. Even though the attack is from high tonnage vehicles with high speeds, it's not possible for the vehicle to keep on moving because of the damage given to front, wheels and the bottom of the vehicle.
A surface mounted type road blocker is installed directly on the road, therefore it does not need any excavation or civil works. Madoors road blockers are designed to K12 standards. Finite element model analyses are available upon request. Drive unit is electro-hydraulic, but in case of power failure road blocker can be lowered or lifted manually with the help of manual hand pump. Typical raise/lower time is 3 seconds. In case of emergency, raise/lower time can be as low as 1.5 seconds. With the help of PLC (Programmable Logic Control), raise/lower function can be achieved by every kind of card readers, biometric readers like fingerprint or hand shape, radio control, on/off key switch etc. Besides, safety accessories like photocells, inductive loop detectors, flashing lights or red/green traffic lights can be integrated to the system very easily. Typical weight of a road blocker is 2-2.5 tons (depending on road blocker type).
This innovative surface mounted road blocker product comprises two heavy duty hinged steel plates which are brought together by a hydraulic power pack to form a raised barrier across the road which is impassable to any wheeled road vehicle. When in the down position the plates form a slight speed hump, thereby doubling as a speed control device.
The Surface Mount Road Blocker is simply bolted to a suitable road surface and with the exception of a channel across the road to take the hydraulic hose, no further groundworks are required. The blocker has built in LED traffic lights to both sides mounted on raised posts, and is finished in highly visible red with reflective striping to the control enclosures. Surface mounted blockers are a popular access control solution to car parks, golf clubs, schools etc. where discrete automated systems are preferred.
---
Surface Mounted Hydraulic Road Blocker Photos
---
Surface Mounted Hydraulic Road Blocker Datasheet
---
Catalog
---
Video
Get Quote