ELECTRO MECHANICAL ROAD BLOCKER
Product:
Electro Mechanical Road Blocker
What is Electro Mechanical Road Blocker?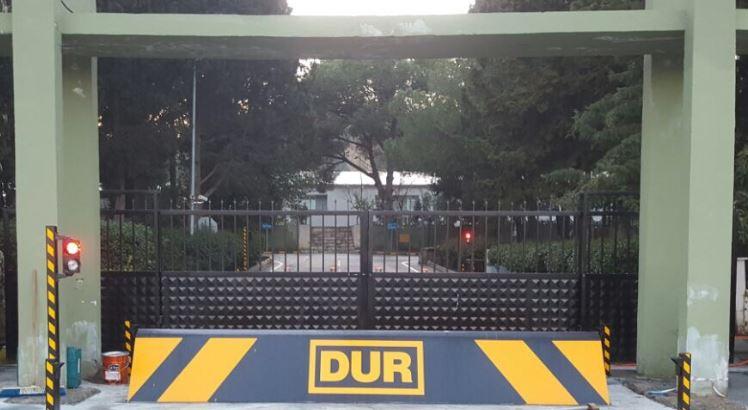 Our electro mechanical road blockers are designed to control access and enhance perimeter security while adding to the overall aesthetics of any install location. All systems are built to the highest of standards, are easy to maintain and will completely integrate with any existing access control or security components and systems. These systems Perfectly fit for areas requiring higher than just a standard level of security. Simple, yet durable construction provides highly secure and effective access control management. Madoors road blockers are to be easily embedded into an existing roadway. Also, they offer a great advantage of surface installation without additional construction works. The Road Blockers are designed to remain fully operational after the impact and consequently continue to guarantee the full level of security. A reinforced corrosion-resistant hot-dip galvanized steel frame and curtains with high-visibility striping provide both visual and mechanical barrier against unauthorized entry. Control cabinets are available in powder coated steel, powder coated stainless steel or brushed stainless steel finishing. Powder coating available in any RAL colour.
Optional Accessories
Loop detector
STOP sign
Remote control
Key-switch override
Push-button control
Edge ramps
Traffic lights
Electromechanic road blockers work more securly with loop detector and photocell systems. I neve rise if there is a vehicle in photocell area. Also there is no extra ledge which can cause accidents with humans. Its structure and its dimensions enable it to resist violent impacts. Secures the entrances to sites with a very high degree of control, with a risk of intrusion. Activation by an electromechanical unit makes it possible for the MADOORS ELECTROMECHANICAL ROAD BLOCKER to function in environments subject to freezing, while respecting the environment. This product is also available in a hydraulic version.
Electromechanical road blocker's main features are :
Robustness
Product designed for industrial environment
Huge strenght to impact
Non submited to frost effect (electromechanical actuator)
Road Blocker Security
Dissuasive effect of the obstacle
Effective resistance of the obstacle
Controls in a separate housing
The main market segments concerned are: Sensitive Sites (government buildings, embassies, military sites, barracks, storage centers, airports...)
---
Electro Mechanical Road Blocker Photos
---
Electro Mechanical Road Blocker Datasheet
---
Catalog
---
Get Quote