Revolving Door
MAdoors Automatic Manual Revolving Door Systems use the latest technological products in the European standard and this operating system minimizes the possibility of malfunction of the revolving doors. Automatic revolving doors can operate for many years without any problems as long as regular maintenance is done. At the same time, service and maintenance costs are also economical.
---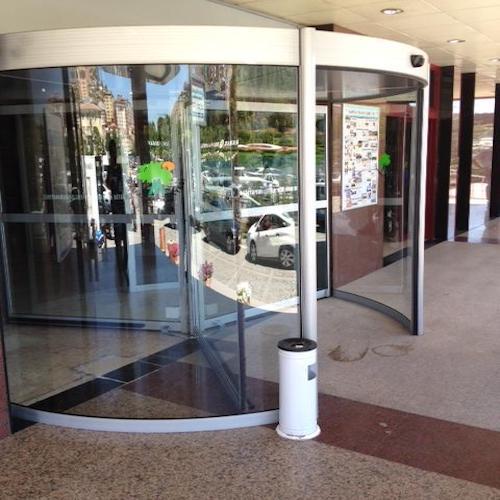 Madoors Manual and Automatic Motorized Revolving Doors typically consist of three or four doors that hang on a central shaft and rotate around a vertical axis within a cylindrical enclosure. Revolving doors are energy efficient as they prevent drafts, thus preventing increases in the heating or cooling required for the building. At the same time, revolving doors allow large numbers of people to pass in and out.
Automatic revolving doors are one of the most important products that affect the use and prestige of an architectual construction in terms of functionality and aesthetics. The difference between automatic revolving doors from manual revolving doors, is that, thanks to the radars located at the entrance and exit, they are the most useful products which are powered by an engine mechanism and equipped with smart security systems to save energy as well as security in human passages.
The MAdoors Automatic Revolving Door allows for trouble-free access, with its many new features such as vertical and horizontal compression sensors, manual operation in power failure, full folding of the wings in case of panic in the revolving door, continuous operation without stopping even if the door wing is forced by pushing during rotation, half speed return etc.
MAdoors Automatic or manual revolving door which is available in various design configuration.
OPTIONAL:
Executions with night shutters in manual (3/4 wings) or automatic version (2/3/4wings), with electric or mechanical locks, push bars in different variations or specific glass requirements. Automatic revolving door turns in anticlockwise direction and is always equipped with the latest safety features to provide safe and reliable function.
The canopy structure is made of a solid and strong steel structure including thermal insulation and clad in aluminum plates along the pelmet and closed with a standard dust cover. The ceiling underside is closed with segmented aluminum plates that provide a solid and perfect flush view.
Highly engineered and reliable drive components ensure a smooth and safe operation at all times. Revolving doors provide comfort ideal for office buildings, airports, train-stations, hospitals, shopping centers, hotels and many more.
Climate control (temperature, air condition wind-drafts) which reduces costs
Flexible design options provide totally customized solutions for any entrance
Full glass option available for incredible transparency mainly for glass facades
---
---
---
---
---
Get Quote